VW UP GTI CAR PHOTOGRAPHY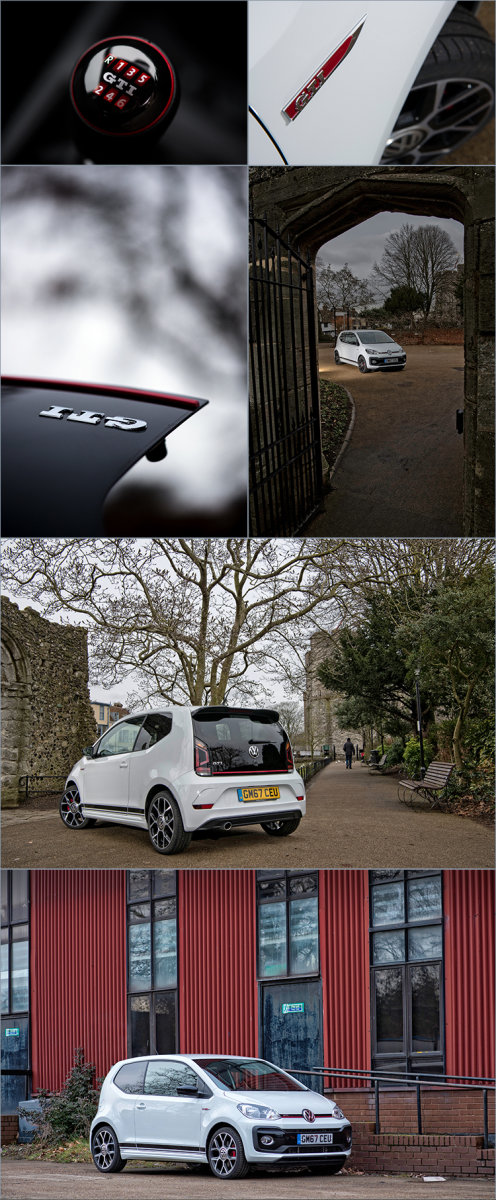 Volkswagen will always be remembered for the introduction of the hot hatch, back in the 70's they made the everyday Golf in to an icon by adding the GTI badge to it, 40 plus years later and the Up model now shares the iconic badge…
06/03/2018
EuroCanterbury VW kindly loaded me the white Up GTI for a photo shoot in the town centre, the majority of the car photographs were taken in the grounds of Tower House, set in the historic setting of the Westgate Gardens where the little white hatch stood out against the architecture and river.

Although the Up GTI only has a 1.0 engine it produces 115ps, just up from the original Golf hot hatch, linked to a 6 speed gear box and weighing just 995kg it really feels like you are going a lot faster, you forget how much bigger equivalent cars are now to the originals back in the 70's and 80's as this is not far off the 1979 MK1 Golf I had as my first car it brought back memories of a simpler time when their were no electronic aids, dual clutch gearboxes and traction control just a simple manual gearbox and a lightweight car that was perfectly balanced. Although the Up is a city car the split boot allowed me to fit my camera bag, lights and stands perfectly.

The White paintwork is a traditional colour for the hot hatch, now making a comeback as the choice of colour options over the silver paintwork that seemed to be chosen on most cars years ago it fits right in with the modern chic image the Up has, also the red stripes on the grill set off nicely against the contrast of the black grille. I used the Profoto B1 and smaller more compact A1 to light the car, due to its size and bright paintwork I didn't want to overpower the ambient light, just to lift the shadows and wheels. Lens wise the 24-70mm and 100mm macro lenses combined for the exterior and interior images, always forget how versatile the macro lens is just as a standalone prime telephoto.